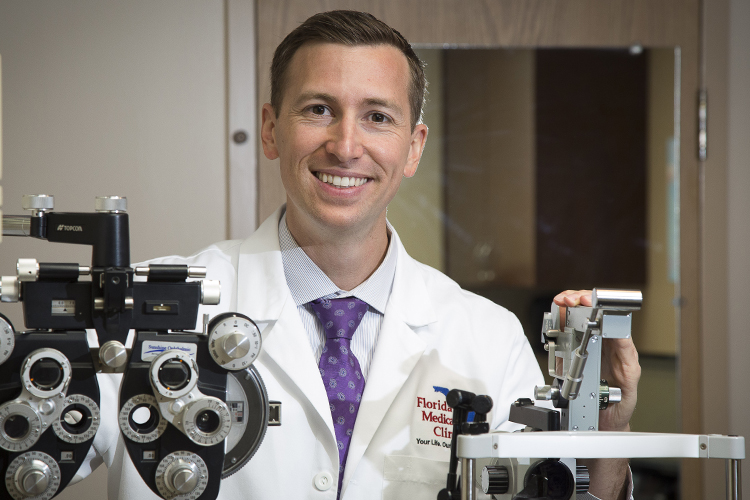 Finding the best eye doctor for your needs can be a challenge. Fortunately, there is an eye doctor in Temple Terrace that provides the services and support that you need, the way that you need it. Here is what you can expect from a Temple Terrace eye doctor from the Florida Eye Center.
Adult Ophthalmologists in Temple Terrace
As people age, their eyes can develop a variety of conditions. We specialize in diagnosing and treating a wide range of eye conditions. Using the latest diagnostic, surgical, and medical treatment options, our ophthalmologists work with patients to develop treatment plans that can restrict the development of eye conditions and restore their sight whenever possible.
Pediatric Eye Doctors in Temple Terrace
Early detection and intervention are crucial for helping children avoid eye problems in the future. That is why our pediatric eye doctors work with young patients to identify and correct problems before they develop into more serious issues. Regular visits with the eye doctor can help prevent the development of eye conditions.
At the Florida Eye Center in Temple Terrace, our team includes specialists in different areas where patients regularly need specialized care. We can treat a variety of conditions using different methods. Some of our top specialties include:
Our team of board-certified ophthalmologists can diagnose and treat Glaucoma, a degenerative disease that reduces a persons' ability to see. A team of medical staff members uses a laser to remove tissue and repair parts of your eye. With our team, we can minimize the impact of Glaucoma on your life.
Cataracts can slowly impair vision and require the need for specialized treatment. We have a team of cataract specialists that can treat them using the latest industry technologies. With our help, you don't have to suffer through blurry vision and more serious eye problems. We can help correct cataracts and restore your vision using laser treatments and other methods. Our methods are refined by leading industry specialists to reduce recovery times and get you back to your life in no time.
Routine Eye Doctor Office Appointments
Regular visits to the eye doctor are important for maintaining your vision health. Our doctors provide routine eye care, including eye exams and vision health assessments, to ensure that you get the care that you need. With a keen eye for diagnosing and treating eye conditions, your care is in good hands with our team of eye care experts.
With skilled eye doctors in Temple Terrace, getting the care that you need is getting easier. 
To schedule a consultation with an eye doctor in Temple Terrace at the Florida Eye Center, please call us at (813) 602-7336, or fill out the request form here to request an appointment.
Disclaimer: The contents of this website are for general educational purposes only. All content and media on the Florida Eye Center website does not constitute professional medical advice nor is the information intended to replace the services provided by the medical professionals at Florida Eye Center or other qualified medical professionals. If you believe you are having a medical emergency, call 911 immediately.
The content, views, and opinions communicated on this website do not represent the views of Florida Eye Center. Reliance on any information provided by this website is solely at your own risk. Although this website contains links to other medical websites, this is strictly for informational purposes. Florida Eye Center is not responsible nor do they approve of the content featured on any third party linked websites referenced on this website.
Ready to Make an Appointment?
To request an appointment, please access the form below or contact our office at (813) 972-4444. While we do our best to accommodate your request, appointment requests made through our website are not guaranteed until confirmed by our office. If this is an emergency, please call 911.